I The Districts sono pura energia.
Dopo il successo di "A Flourish and a Spoil" del 2015,
il quartetto di Philadelphia si prepara a far ritorno 
in Italia con un nuovo lavoro.
In uscita a fine anno, l'album è stato anticipato dalla bellissima
"Ordinary Day" via Fat Possum Records e lanciata da "NPR Music's Songs We Love".
Prodotto da John Congleton (St. Vincent, Angel Olsen, Explosions in the Sky),
il nuovo singolo è solo un assaggio di quello che ci aspetta.
"Ordinary Day": http://bit.ly/2mEWiyr
OSPITI del SXSW, THE GREAT ESCAPE e OSHEAGA, 
LA BAND SARÀ IN ITALIA A SETTEMBRE PER UNA SOLA DATA:
VENERDÌ 15 SETTEMBRE
MILANO – SERRAGLIO
www.serragliomilano.org
Via Gualdo Priorato, 5, 20134 Milano
Biglietti: 13 euro + d.p.
Prevendite disponibili su www.ticketone.it
«We write honest music and are passionate about doing so"
La band nasce nel 2009, quando i quattro frequentano ancora il liceo nella Contea di Lancaster, Pennsylvania. I The Districts sono il cantante/chitarrista Rob Grote, Connor Jacobus al basso, Braden Lawrence alle percussioni e Pat Cassidy alla chitarra.
Dopo aver debuttato nel 2014 con "Telephone", la band si è fatta conoscere a livello internazionale con "A Flourish And A Spoil", pubblicato nel 2015 via Fat Possum Record.
A due anni di distanza dal loro ultimo lavoro, la band ha condiviso un nuovo singolo "Ordinary Day" e annunciato l'uscita del loro terzo lavoro in studio.
A proposito del singolo Robby Grote dice "'Ordinary Day' deals with a sort of personal alienation and the realization that you and the world you've existed in have changed. Sort of the feeling of coming through a tunnel and having no way of relating to things in the same way as before. It was written in late summer/early fall and came together quite naturally… Personal lives were in flux and we were sitting around Philly losing our minds."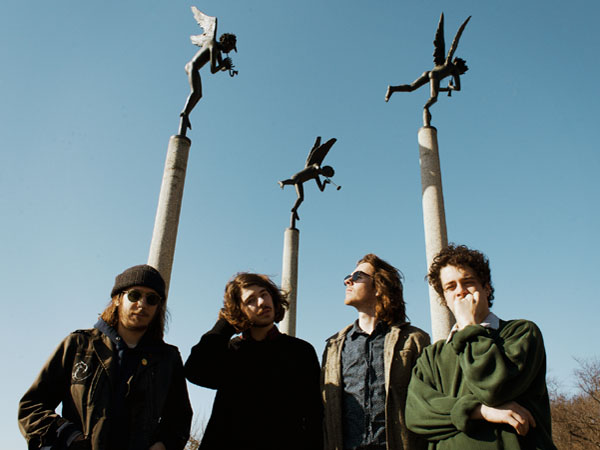 THE DISTRICTS_READ MORE:
thedistrictsband.com
www.facebook.com/thedistrictsband
twitter.com/thedistrictspa
thedistricts.bandcamp.com
fatpossum.com/artists/the-districts